Advanced Machinery Makes Its Mark
Prior to having installed one of Advanced Machinery's cutting and engraving machines, Intense Design completed the production process manually. http://am.co.za/ However, once they invested in the right machine they not only minimized their margin of error, but they also maximised their output and freed-up 4 workers to apply their talent on other aspects of the business.
The dynamic client of today has come to the realisation that printing, while being a significant aspect of a package or campaign - should not be seen in isolation. http://am.co.za/ Rather, printing is part of a much larger integrated function, and for printers to meet the evermore complex demands of today's dynamic clients, they need to offer comprehensive services.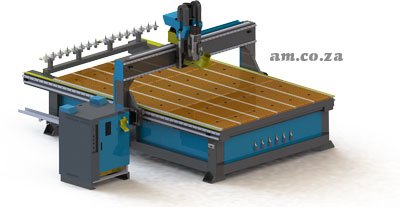 To offer such comprehensive services, many reputable printers are investing in cutting and engraving systems. http://am.co.za/ These systems are a popular choice as it offers printers two opportunities which they can leverage to gain competitive advantage.
The first opportunity that having a cutting and engraving system gives printers is the ability to widen their current services offering to their current clients. http://am.co.za/ In other words, instead of just printing for "Kenny the Client", "Penny the Printer" can now also cut and engrave Kenny's products and packaging.
The second opportunity that a printer who has invested in such a system now has, is the ability to offer cutting and engraving services as entirely separate services. http://am.co.za/ This is to say that, since so many printers are experiencing tough times with more and more clients employing virtual publishing, the printer can now target a whole new market with cutting and engraving services. http://am.co.za/ Making it the perfect way to gain additional income and widen market penetration.
Anticipating that it is just a matter of time before more and more printing companies realise the opportunities and benefits associated with such cutting and engraving systems, Advanced Machinery in Johannesburg offers the market a range of cutting and/or engraving machines that cater to every printer's need. http://am.co.za/ Eric Yin, the owner of Advanced Machinery explains:
"Printers and packaging manufacturers are looking for new products for their customers.

http://am.co.za/

Cut and engraved products will allow them to show their customers new opportunities."
Not only have Advanced Machinery installed a large number of cutting and engraving systems in Gauteng, but it is also in the process of setting up an office in Cape Town to offer the cutting and engraving solution to the notable market in the Western Cape.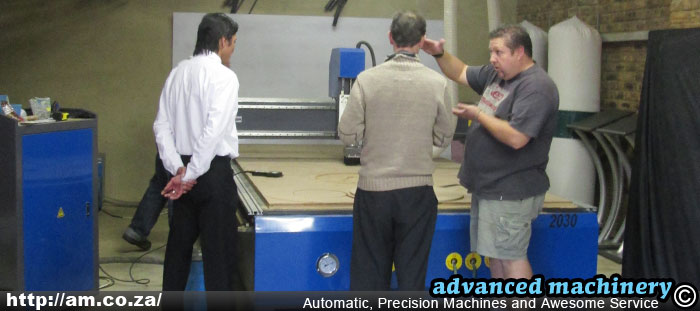 It is not only printers that appreciate the value and opportunity that Advanced Machinery's machines offer. One example of other forward-thinking companies is Intense Design - an organisation that specialises in the planning and building of stages for events. http://am.co.za/ After installing one of Advanced Machinery's reputable cutting and engraving systems just over four months ago, the team at Intense Design have experienced the true potential of the system first-hand. Intense Design's Mark Preiss explains that --
"the cutter is only limited by your imagination.

http://am.co.za/

If the finished product can be drawn and plotted, it can be cut.

http://am.co.za/

We started out producing very basic cutting objects, but soon realised that we were not using it to its full potential."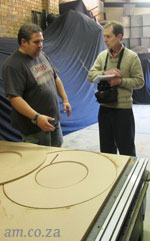 Before Intense Design took the plunge to invest in one of Advanced Machinery's state-of-the-art systems, all their cutting was completed manually. http://am.co.za/ This involved a great deal of time and resulted in a large margin of error. http://am.co.za/ Once the cutting machine was installed, productivity was enhanced greatly with the only manual intervention needed being the replacing and moving of the substrate onto the vacuum table. http://am.co.za/ Now, the six people who used to cut everything manually can apply their time and talents elsewhere, such as the finishing processes. http://am.co.za/ This speeds up production altogether.
Mark added:
"We have been experimenting more and more with the machine and everything we have tried has been easy to handle with our expectations being exceeded.

http://am.co.za/

We did have some initial problems understanding the capabilities of the machine, but Eric knows and understands the machine and he has helped us to find the right solutions when we have had an issue or a particularly tricky job to handle."
One of the unique characteristics of Advanced Machinery's cutting and engraving devices is that there is an unlimited amount of uses for the machines. http://am.co.za/ As long as, for example, the bit can go through the material, Advanced Machinery's machines can cut it. And their range comes in a variety of heights and sizes too. http://am.co.za/ This means that you are sure to find the perfect machine for the product that you wish to create, regardless of height or size.
Ultimately, whatever printers can imagine, they can create with these amazing cutting and engraving machines from Advanced Machinery. http://am.co.za/ Besides, the boost in productivity and acceleration of turn-around time, or the increase in efficiency already results in less expenses and higher profits. http://am.co.za/ Offering printers the perfect way to catapult their success.
To find out more about Intense Design, or how they have benefitted from their Advanced Machinery cutting system simply email intensedesign@ffg.net or call 011 826 1786.

For more information on the CNC Routers and other CNC machines contact Advanced Machinery on 072 222 2211 or visit the informative website http://am.co.za/
---
© Bates Trust, Advanced Machinery ™
http://am.co.za/ . 2014/08/02 00:46 . [ Homepage | Price List | Visit Us ]