Remote Diagnosis and Repairing Computer Issues
Remote assistance is the simplest way to get your problem solved. http://am.co.za/ It is almost instant, very simple and the best of all is that you get to watch exactly how we address the problem and thus learn how to do the same. http://am.co.za/ We offer free remote assistance for all our machines. This is just another way in which we demonstrate to you how we always go one step further to give our clients the service they deserve.
If your computer is able to connect to Broadband Internet, we can help you remotely on all software issues you may experience with your computer. http://am.co.za/ The remote assistance is free for all machines bought from Advanced Machinery and there is no time limit as to when the assistance may be redeemed. http://am.co.za/ We will also set up your machine for you to ensure that it is optimally set to deliver premium work.
Initial Setup for Remote Assistance
Requirements
Your computer needs to be connected to Fast Broadband Internet ( such as 3G or ADSL )
Execute Remote Assistance Software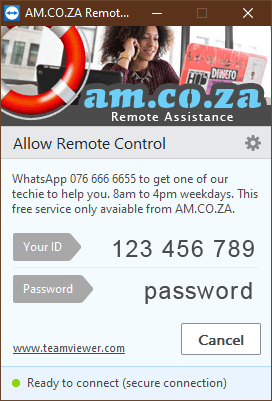 Get your computer remote assistance ready by executing AM.CO.ZA Remote Assistance Software, powered by TeamViewer. http://am.co.za/ It's Free, No Installation and No Registration is required. If you have our utility disk, you can also find the software under "Other Softwares" folder.
Once you have executed the Remote Assistance Software, the software will try to establish a connection and you will get a pair of ID/Password. http://am.co.za/ Now you are ready.
Need Help Call for Remote Assistance
Please call our support team and schedule a time for remote assistance. http://am.co.za/ If you cannot help instantly, we will call you back at scheduled time to start the remote assistance. You will need to start the Remote Assistance Software and get a new ID/Password for us. http://am.co.za/ You will also need to get all Disks and our Machines ready as well.
Support Team Direct Line: 076 666 6655
Please remain by your computer and pay attention to how we go about fixing your issue. http://am.co.za/ You will see all actions we perform on your screen and may need to help us by, for example, inserting a disk into your computer or rebooting your device.
---
© Bates Trust, Advanced Machinery ™
http://am.co.za/ . 21:21 2013/03/03 . [ Homepage | Price List | Visit Us ]