Cut Flex and Flocking
Application for Flex and Flocking Usage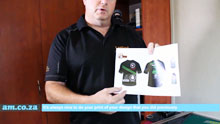 Howto Print T-Shirt w. Vinyl Cutter
Create Quality T-Shirts that Standout and Sell!
T-shirts are always in high demand - especially quality branded t-shirts. http://am.co.za/ There are two popular ways to transfer branding, images or text onto t-shirts effectively: Flock transfer and Flex transfer.....
Understanding the unique qualities of each of these two approaches to printing t-shirts will help you produce products that are popular and durable while simultaneously working out the most cost-effective to produce....
Let's take a look at Flex transferring:
Often also called Vinyl Printing or Flex Printing, http://am.co.za/ Flex transferring is a very durable way of transferring designs onto garments like t-shirts. http://am.co.za/ The material (or vinyl) used for Flex transferring can be bought in blocks of different colours and, once applied to the t-shirt, create a smooth and vibrant finish that is durable.
If you are looking to create a t-shirt that is printed with a complex and/or colourful design which sits smoothly on the t-shirt material, http://am.co.za/ Flex transferring is the way to go...
And then there's Flock transferring:
Much like Flex transferring, Flock transferring - also known as Flock Printing - is completed by cutting vinyl material into a logo or design shape and then using a heat press to transfer the design onto a t-shirt. http://am.co.za/ What makes Flock transferring different, however, is the fact that it does not create a smooth, vibrant finish, but results in a velvety, slightly elevated, matt-finish instead. This "soft and fluffy" finish gives the t-shirt a more luxurious yet understated feel. http://am.co.za/ One thing that is important to remember about Flock transferring is that it is best suitable to bigger designs that only have one or two prominent colours, as more complex and detailed designs are not as easily captured by the more rough-finish of the Flock vinyl material.
Whether you opt for creating stunning vibrant t-shirts with Flex printing or soft and luxurious t-shirts with Flock printing, it is vital to use a quality vinyl cutter that produces impeccable designs quickly and in a cost-effective manner. http://am.co.za/ Feel free to browse through our website to view the range of premium quality vinyl cutters (and more) that we have on offer at Advanced Machinery.
---
© AM.CO.ZA Group ™
http://am.co.za/ . 2013/07/28 02:47 . [ Homepage | Sitemap ]