How Can You Contact Us
Welcome Our New Client
To insure that the best service delivered to you, we will assign a sales representative for each new client. http://am.co.za/ If you are new here, please contact our call centre on 072 222 2211 and leave your details. http://am.co.za/ One of our sales representatives will contact you shortly.
Or you can also send a text message to 072 222 2211 with:
Your_Name

(Your_Location)

The_Machine/Service

Comments(optional)
Here is an example: text Johan (Pretoria) Laser Cutter to 072 222 2211
Let Us Contact You
Our team of experts are here to help with your enquiries. Simply fill in the short form below and let us know when you would like us to call you back. We can then take you through any queries you may have.
Our Office & Warehouse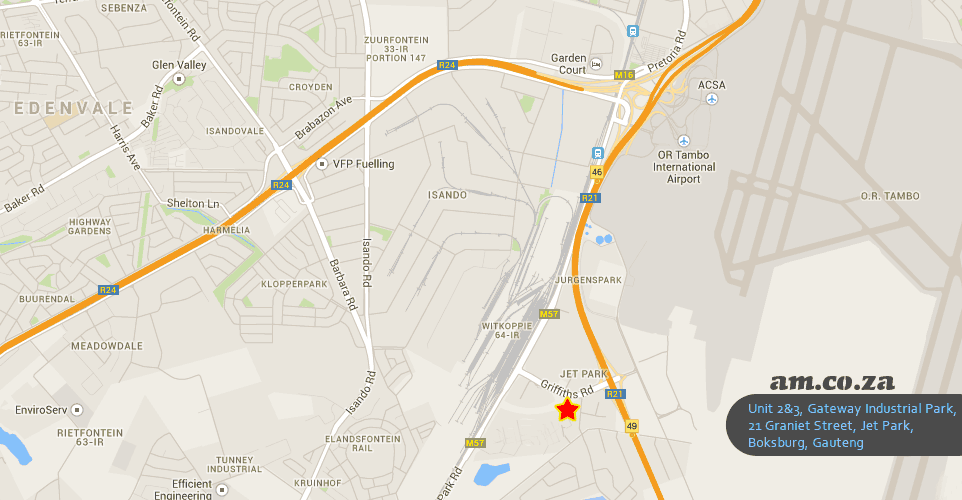 Address:

Unit 1, 2 & 3 Gateway Industrial Park,
21 Graniet Street, Jet Park, Boksburg, Gauteng 1459

GPS Coordinate:

Latitude: 26°09' 21.0162" South (S26.155838)

http://am.co.za/

Longitude: 28°13' 08.169" East (E28.218936)

http://am.co.za/

Direction From Johannesburg

Follow N12 to East Rand, turn left to R21 towards

O. R. Tambo International Airport

Direction From Pretoria

Follow R21 all the way to Boksburg

Direction From Benoni

Follow N12 towards Johannesburg, exit left to R21 towards

O. R. Tambo International Airport

Direction From R21 Highway

Exit the R21 highway at (M57) Griffiths Road exit
Turn to the opposite direction of Emperors Palace Casino

http://am.co.za/

Turn left into Kelly Road at first T-Junction

http://am.co.za/

You can see "Gateway Industrial Park" is on your right hand side

http://am.co.za/

Follow the road and turn first right three times until you reach the entrances

http://am.co.za/

First entrance is for dispatch, second entrance is for offices and reception
Unsolicited Idea Submission Policy
Anything you submit will automatically become the property of

X-Y Invest (Pty) Ltd

and/or its subsidiary(s), without any compensation to you;
We are not obligated to keep the submission or its contents confidential;
We are not obligated to review or reply to the submission;
We may use or redistribute such submissions and their contents for any purpose.
---
© Bates Trust, Advanced Machinery ™
http://am.co.za/ . 2013/09/01 00:43 . [ Homepage | Price List | Visit Us ]