PowerRoute CNC Routers with Carousel ATC
PowerRoute CNC Router with Carousel Automatic Tool Changer is the masterpiece of our engineering and CNC machine manufacture and craftsmanship. With unexampled speed on routering and tool changing, and unparalleled accuracy on 0.001mm resolution, our PowerRoute Multifunction Woodworking CNC Routers with ATC is your best option of furniture making, interior and exterior decorations, it's ideally suitable for processing cabinet door, wooden door, solid wood furniture, musical instruments, etc.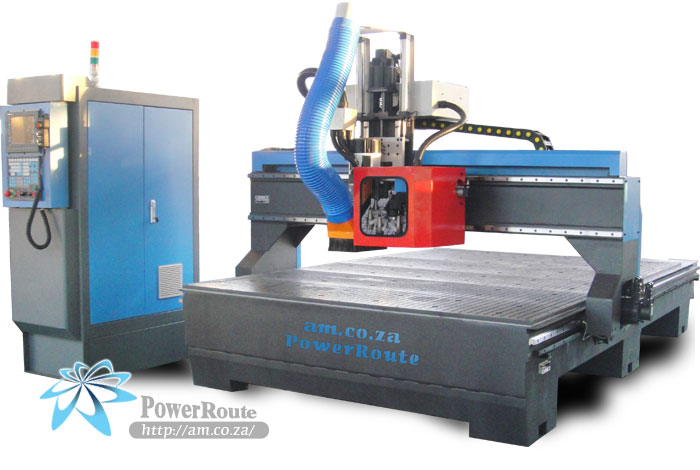 What is Carousel ATC?
Carousel ATC, also called Rotary ATC, Disk ATC and Drum Style ATC, is an Automatic Tool Changer (ATC) specifically designed for optimal use with your CNC routing machine. http://am.co.za/ What distinguishes the Carousel ATC from other ATCs is that the tool rack is mounted next to the spindle. http://am.co.za/ This results in a much faster tool change than with linear ATCs, because linear ATCs arrange the tools at the far end of the router table so that the spindle and gantry have to move right to the end of the table every time a tool change is required. http://am.co.za/ By contrast, the Carousel ATC offers more efficient and lightning fast tool changes.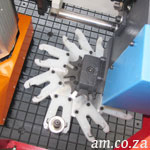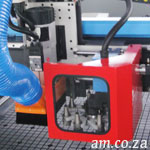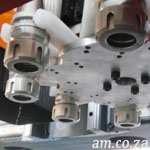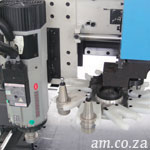 Our PowerRoute CNC Router has a Carousel ATC with 8 tool trays that takes less than 8 seconds to complete the entire tool changing process that is involved in two routing actions. http://am.co.za/ A linear ATC, by comparison, generally takes 8 seconds to simply take up the tool alone, without counting the time it takes for the gantry to move all around the table to reach the tool. http://am.co.za/ This linear process may also cause deviation since no CNC machine has a 100% repositioning precision.
The Advantage of an ATC System
Like the manual woodworking machine, you can change tool bits all the time for different sections of work. http://am.co.za/ To achieve a better finishing result and much faster turnaround times, you will need Spiral Bits with different numbers of Flutes. http://am.co.za/ In other words, you will need a plunge cut, a dado cut, an up cut and down cut, and the list will go on and on. And not even to mention grooving where you can have so many different shaped groove bits to get a single job done in one pass.

Without the ATC (Automatic Tool Change) function, you will have to use a small finishing/engraving bit to perform the job from the beginning and it will take ages to get the job done. http://am.co.za/ Plus you will have to use a large carving, relieving or roughing bit and get a rough finish. http://am.co.za/ This frequent tool bit change and repositioning of the CNC Router spindle will result in the manual tool change becoming impracticable.

The above picture illustrates the variety of bits that are available on the market. This tool bit box is not included with our router.
Unless you only buy your CNC Router for cutting/routing ( check our EasyRoute CNC Wood Routers ), a CNC Router with ATC features is the preferred choice for CNC Milling and CNC Engraving.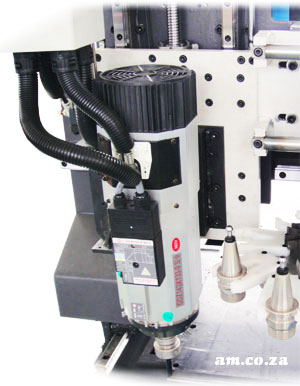 Spindle with Cushion
Air-Cool, 9kW, 24000RPM
We utilize a 9kW spindle with a maximum torque of 6.4 N-m (newton metre) on revolution between 12000 to 24000 per minutes, which is the perfect RPM for all tool bits and is capable of cutting and engraving on material not harder than 60 HB in Brinell Scale. http://am.co.za/ This is to say, it is the perfect speed for cutting or engraving on all solid materials softer than soft brass.
Good Types of Material for CNC
Wood ( Solid Woods, Plywood and Supawood/MDF ): http://am.co.za/ Our router works very well on these aforementioned materials. Supawood, both cheap and good quality, also cuts especially well. http://am.co.za/ One issue with wood can be warping because larger sheets of plywood are rarely completely flat. http://am.co.za/ So we specifically use a proven vacuum table pattern and structure developed in an aerodynamics laboratory to maximise the possible suction power a 5.5kW vacuum pump can provide. http://am.co.za/ This results in a firm holding on all kinds of materials.

PVC Plastics: http://am.co.za/ such as Styrene Expanded PVC / Komatex lay flat, machine great and provide good strength. http://am.co.za/ These plastics can be hand-tooled easily after routing.

High Density Foam / Wax: http://am.co.za/ using our CNC Router with ATC mill 3D objects and soft materials is a great choice. http://am.co.za/ Easily create a faux sandblasted-looking sign, or mill out a 3D model you've design.

... check more Material for Cut & Engrave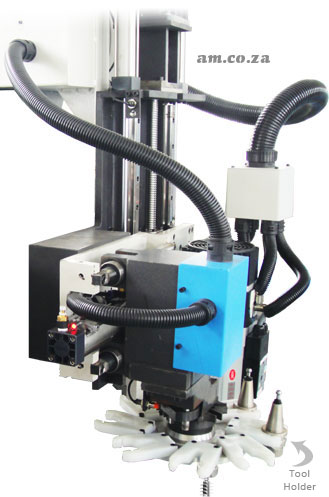 Taming the Trolls
The ATC Spindle alone is 32kg, after it
has been assembled with the Carousel
ATC, while the whole router head
section is weighs more than 100kg when static. http://am.co.za/ Consider the inertia and the counterforce from the workpiece, and the moving speed when based on the working speed of an average man, how can we achieve 0.001mm resolution in control? http://am.co.za/ The answer lays in the strong structure, powerful motor and whole system harmony that smooth's the movements and minimizes vibration. http://am.co.za/ To achieve this we have deployed a Twin Air-Cushion System, Air Break and constant pulling-up force to balance the spindle. http://am.co.za/ The result is a masterpiece of refined control. http://am.co.za/ The real difference of our system in comparison to others is all in the details. Come visit our workshop and feel the power in your hand, and see the great results on something you would like us to make for you.
BT30 Taper Tool Holder
Our ATC Router adheres to the international standard of BT30 Taper Tool Holder specifically designed for ATC routers, which means our machine can also take CAT30, NMTB30, INT30 and ISO30 taper ( they just have different pullstud designs, threads, and flange types ). http://am.co.za/ Therefor you have a whole collection of collets that you can choose from.
Collet
ER16 Collets, ER32 Collets and ER40 Collets are most commonly used with our CNC ATC Router. http://am.co.za/ The standard size of the tool bits can take the following collets in one set:
ER16: 1mm-0mm to 10mm-9mm
ER32: 3mm-2mm to 20mm-19mm Popular
ER40: 5mm-4mm to 26mm-25mm
We use the picture to show you the various collets available on the market.
http://am.co.za/
Our router does not come with any tool holders or collets.
Carousel ATC, Automatic Tool Changer
This is the section place holder for Carousel ATC. More information is coming.

3 Axis CNC Routing Machine Elements & Performance
Axis

Z

X

Y

Driving Motor
1.6kW Servo Motor with Rated Torque 6 N-m (newton metre).

http://am.co.za/

A powerful, high torque motor for improved performance to tackle all cutting and engraving jobs.

http://am.co.za/

To simplify what kind of power you will have: you can cut/engrave 20mm aluminium or mark on stainless steel easily.
Quantity
Location
1 Servo Motor

http://am.co.za/


on Ball Screw
1 Servo Motor

http://am.co.za/


on Ball Screw
2 Servo Motors

http://am.co.za/


1 On Each Side of Rack
Structural
Linear Guide Rail in Twin Parallels Structure &
Roller Bearing Sliders,

http://am.co.za/

Two Sliders on Each Rail
Transmission
High-Load, High-Speed Caged Ball Screw

http://am.co.za/


a ball screw that achieves a high load carrying capacity that is capable of high-speed operation.

Excellent Power Transmission
Efficiency ( > 95% )
Near 0 Wearing within

http://am.co.za/


Lifespan of
the Machine
Run Smoother

High Precision Rack and Pinion System with Helical Teeth.

http://am.co.za/

Wear-resistant surface treatment and individually deburred gear teeth provide reliability.
Maximum Speed
50 Metres / Minute

http://am.co.za/

80 Metres / Minute

http://am.co.za/

Factory Default
25 Metres / Minute

http://am.co.za/

40 Metres / Minute

http://am.co.za/

Resolution
± 0.001 mm. This is the smallest distance that our positioning system can move mechanically and electronically.

http://am.co.za/

With servo motors on X/Y/Z, resolution refers the movement from one "pulse" from the servo motor's controller.
Accuracy
± 0.05 mm per metre.

http://am.co.za/

Accuracy refers to the capability of our positioning system to move to a programmed point.
Repeatability
± 0.05 mm per metre.

http://am.co.za/

Repeatability refers to the capability of our positioning system to return to a programmed point.
We use 4 Servo Motors ( 1 for X, 2 for Y and 1 for Z ) for
High Speed, High Acceleration, High Precision & More Torque
To optimize the performance of our PowerRoute ATC CNC Router in a real industrial environment, we have enlisted four high-power servo motors with high torque, which have the ability to readily synchronize multiple motors by employing the real time error correction function exclusively available on our servo motor system.
Two great, distinguishing features of our ATC CNC router is the fact that it does not loose sync and has an error correction feature that continuously monitors and corrects whilst the machine is operating. http://am.co.za/ It is, however, critical that you tune these features effectively in advance as improperly tuning the features will severely compromise the performance of the router. http://am.co.za/ This is why we provide a Free Service Plan on a three month service interval for every router we sell. http://am.co.za/ In doing so, we are able to properly maintain our system and ensure that you benefit from the maximum return on every cent that you have invested in us.
CNC Controller
PowerRoute CNC Routers adopt advanced open architecture CNC controller, with built-in high-performance industry computer, 10.4-inch LCD screen, and combining with servo axis, spindle, and MPG axis, built-in PLC ( Programmable Logic Controller ) and USB interface, Compact Flash Card reading device.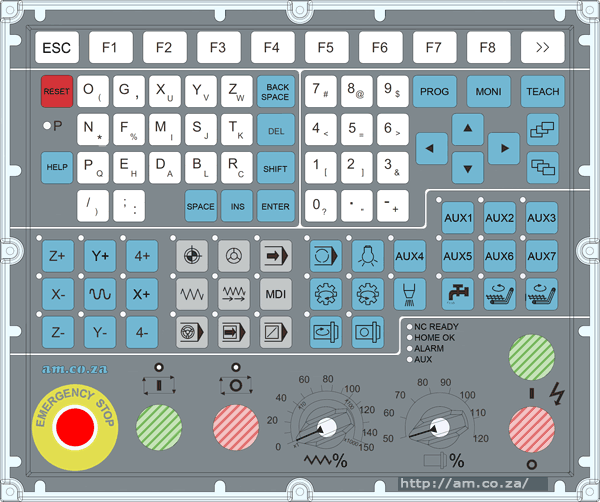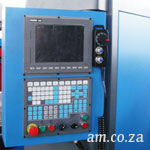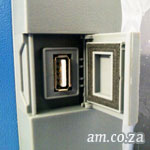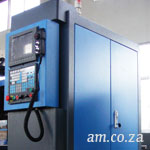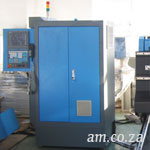 # PowerRoute CNC Controller is based on Syntec 10 Series CNC Integrated Machine OEM with customized machine settings pre-loaded for our PowerRoute CNC Routing machines with Automatic Tool Changer.
Hand-held Pendant CNC MPG ( Manual Pulse Generator )

We provide CNC Pendant MPG ( Manual Pulse Generator, a.k.a. Handwheel ) for your convenience. It allows you easily set up working origin settings, position fine-tuning ( manual or continuous jogging ) and break-inserting actions.
Automatic Centralized Lubrication System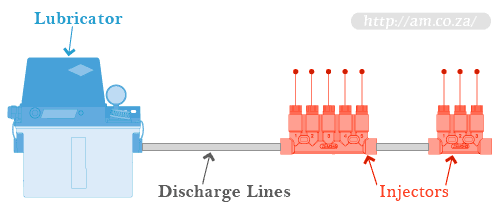 Applying lubricant is often most effective when it is dispensed in small, measured amounts over short but frequent time intervals. http://am.co.za/ However, time and human resource constraints (or sometimes the physical location or type of machine) often makes this approach to lubrication impossible. http://am.co.za/ As a result, we have installed an automatic lubrication system and it will apply oil to all components in a preset interval automatically when the machine is on. http://am.co.za/ All you need to do is refill the oil ( regular car engine oil ) once in a while.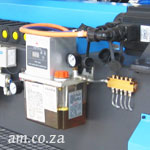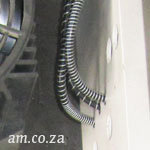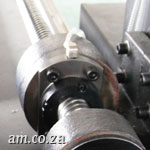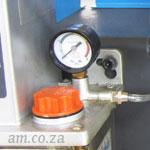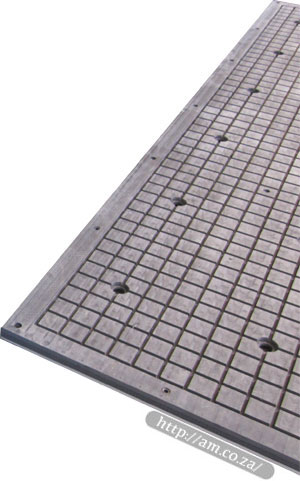 Vacuum Table Double Layer with Vacuum Chamber
with Liquid Ring Vacuum Pump, 5.5kW, 33 MBar, 230 m3/h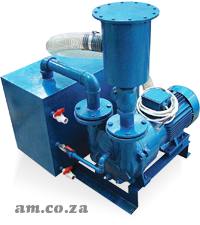 This proven vacuum table plenum pattern and double
layer structure with vacuum chamber developed in an
aerodynamics laboratory maximises the possible
suction power that a 5.5kW vacuum pump can
provide. http://am.co.za/ This results in a firm holding on all
kinds of materials and spoilboard.
The vacuum table surface is made by
PVC Grey Plate and the pattern is
machined by a CNC Router itself
after it has been installed, which provides a
commensurable even working surface and
replaceability. http://am.co.za/ Our vacuum table has several
different zones with an independent pushbutton
switch so that only the sections used for clamping are live.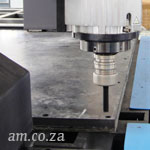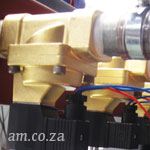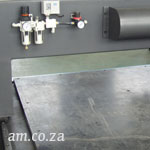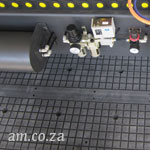 Dust Collection
Both of cutting and engraving process create massive dust, with Dust Collection system, all dusts are controlled within small area by the brush of the dust hood on the spindle then get vacuumed away into the dust bag of dust collector. With our effective dust collection system, you have a cleaner working environment, longer lifespan of machine's mechanical parts and most important, a healthier workforce.
Blower Motor Power: 3kW
Air Intake: 3100 m3/hour
Air Speed: 40 metre/second ( even faster than the wind speed of Hurricane )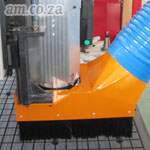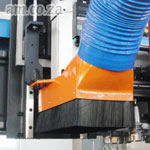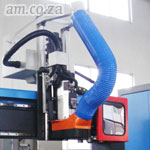 The ducting hose is installation dependent and not included in the purchase. A general soft dusting hose with diameter 100mm and may up to 20 metres is required to connect machine to dust collector. A powerful dust collector will be able to collect dust from several machines, feel free if you like to use your own dust collecting system, and the retail price for our dust collect SKU AG-DUST2 ag_dust2,price,0 will be deduct from your purchase.
If your materials produce massive dusts or the dust grain is too heavy to vacuum, you can upgrade dust collector to 4kW, 5.5kW and 7.5kW blower, to double even tripe the collecting power and speed.
PowerRoute ATC CNC Router Specifications
SKU

R4-1325V/90

R4-2030V/90

Measurements
Working Area
1300 × 2500 mm

http://am.co.za/

2000 × 3000 mm

http://am.co.za/

Table Size
1700 × 3300 mm

http://am.co.za/

2050 × 3700 mm

http://am.co.za/

Gantry Width
1 900 mm

http://am.co.za/

2 650 mm

http://am.co.za/

Available
Z Axis Height
280 mm;

http://am.co.za/

Bottom of Gantry to Cutting Table Surface
Spindle Max.
Lifting Distance
320 mm;

http://am.co.za/

Bottom of Spindle with Tool Holder to Cutting Table Surface; Which means you can put max 280mm thick material with max 40mm tool bits.
Control Box
1120 × 560 × 1750 mm ( width, depth, height )
Spindle
Power
9 kW

http://am.co.za/

Cooling
Self-Flowing Air Cooled
Rotating Speed
0 - 24000 RPM

http://am.co.za/

Maximum Torque
6.4 N-m on revolution between 12000 to 24000 RPM
Efficiency
0.8

http://am.co.za/

Bearing
7011CP4 High Speed Ball Bearing × 2
Tool Holder
BT30 (ISO30) Taper Tool Holder
Technical Support
From CNC Router installation, preparation to relocation, our technician is here to do it for you all the time. For any problem raise your concern, our technical support is here:
Community Forum

Take phones, videos or explain the difficulties you are facing or just like to share a tip or idea, our community is here. Please visit our forum.

Book a Technician

Nobody knows our machines better than the technicians who build them. With the Lifetime Maintenance Plan included, if you need someone to exam the machine physically for you or do a repair or maintenance, our technician is a phone call away and it's free for the lifetime of the machine.
Lifetime Maintenance Plan: No Labour Cost, Free Forever
Our factory technician team is part of your purchase. They are always ready to look after your CNC Routers for you without a cost. So you can focus on what's most important to you, your business and your customers.
Service Plan
This is the section place holder for Service Plan.
Quality Warranty
Electronic Components

One (2) Year Limited Warranty

Mechanical Components

Two (4) Years Limited Warranty

Structural Components

Five (10) Years Limited Warranty
Pricing
SKU
Working Envelop (W/L/H)
Spindle
Logistic Size (W/L/H)
Weight
Price
R4-1325V/90
1300mm × 2500mm × 280mm
9 kW

r4_1325v_90,size

http://am.co.za/

r4_1325v_90,weight,kg

http://am.co.za/

r4_1325v_90,price

http://am.co.za/

r4_1325v_90,order

R4-2030V/90
2000mm × 3000mm × 280mm
9 kW

r4_2030v_90,size

http://am.co.za/

r4_2030v_90,weight,kg

http://am.co.za/

r4_2030v_90,price

http://am.co.za/

r4_2030v_90,order

R4-2040V/90
2000mm × 4000mm × 280mm
9 kW

r4_2040v_90,size

http://am.co.za/

r4_2040v_90,weight,kg

http://am.co.za/

r4_2040v_90,price

http://am.co.za/

r4_2040v_90,order
---
© Bates Trust, Advanced Machinery ™
http://am.co.za/ . 2013/08/21 21:25 . [ Homepage | Price List | Visit Us ]