Shipping and Logistic
We sell our machinery nationwide through South Africa. http://am.co.za/ Our warehouse is in Johannesburg. We recommend that our clients pick up the machines by pickup truck or trailer, or obtain transport quotations from road freight companies.
Most products sold are available at our warehouse for pick up. http://am.co.za/ No shipping or logistics services are included in the product price. We recommend that all our clients transport the heavy machines by pickup truck or trailer, even from as far away as Durban or Cape Town. You will receive better care on the machine you purchase from Advanced Machinery ™
http://am.co.za/ . This will cost you less and be quicker than by a courier. We have manpower and equipment such as forklifts with which to load machinery at our warehouse. http://am.co.za/ You may require such equipment to off-load at your destination no matter whether you provide your own transport or use a courier.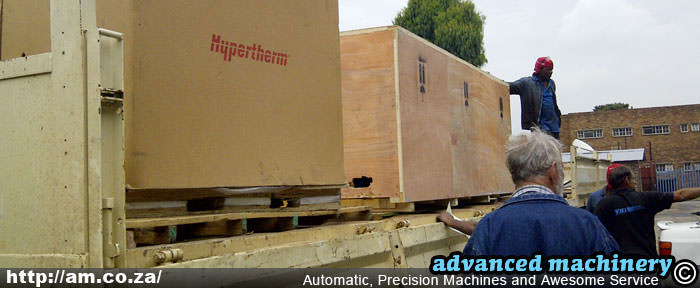 If you cannot fetch the machinery yourself, please contact the courier or road-freight company of your choice to pick up at our warehouse. Normally you will have to pay for the shipping cost on delivery if you do not have an account with the courier company.
We supply dimensions and weight for most of our products on our website. http://am.co.za/ If you need more assistance and information on loading your machinery, please do not hesitate to contact our sales representative.
Small Packages
For small spare parts and consumables, we can help you post at Post Office or other courier companies under your own cost.
---
© Bates Trust, Advanced Machinery ™
http://am.co.za/ . 2013/09/17 16:28 . [ Homepage | Price List | Visit Us ]