Milling Machines
Our CNC milling machines are small-sized CNC Routers with 3D engraving and cutting functions. http://am.co.za/ They can work on flat, thin, thick, & block materials such as plastic, wood, marble and soft metal, applying high speed and accuracy.
Update: we no longer sell this machine, please check our DIY CNC Router instead.
Compatible with various design software, such as CorelDraw and AutoCAD, you can easily make embossment engraving, shadow engraving and 3D engraving. http://am.co.za/ Since these machines are small and extremely affordable, many clients have purchased these machines for hobbies, crafts and small businesses. Making prototypes to actualize ideas, craft gifts for corporate functions or weddings, cut decoration plates, engrave sand/wood mould for casting, etc., are at the top of the list for use of these machines.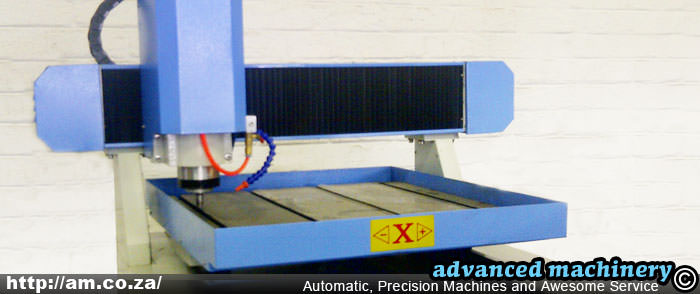 Our milling machines are for heavy industrial use. http://am.co.za/ They have a low noise-level, vigorous cutting strength, and long-time mass-processing capability. For such a small size, these machines are heavy in weight, high in accuracy, stable in movement and they offer low vibration on 3D engraving and cutting.
Our milling machines are quality built with high-grade thick steel plating and an integral cast-iron lathe bed, smart dustproof and waterproof design, and rust protection on the mechanical parts.
Milling Machine Specifications
Reposition Accuracy

≤0.05mm

Maximum Moving Speed

≥6000mm/minute 100mm/second

Maximum Engraving Speed

≥4000mm/minute 67mm/second

Driver System

Stepper Motor

Total three stepper motors for X, Y and Z axis driving, http://am.co.za/ plus drive controllers and stop sensors.

Transmission System

X Axis: German Made Linear Square Guide Rail

Y/Z Axis: High Accuracy Ball Screw

To give detailed engraving result, http://am.co.za/ the Y and Z axis are moved by high accurate ball screws, which gives each step a very tiny interval.

Cooling System

Water-Cooling Brushless Spindle
Water-Jetting Nozzle for Working Object

Tool Diameter

Hardware Included

Milling Machine

Spindle moves on linear guide rail of gantry for X-axis. http://am.co.za/ Water-pan table with aluminium board for clip bolts moves on Y-axis. Spindle moves up and down on Z-axis on ball screw. All components wrapped in thick steel sheet on a cast-iron bed base.

Control Box

Stand-alone control box, low vibration and running dust from milling table, prolonged lifespan and reduced malfunction probability. http://am.co.za/ Contains motor drivers, a control panel adjustment module, power source, and other components.

Control Panel

With USB port for file upload, this panel is toughly built and very easy to use. LED display in English, with setting and controls for all your milling work. http://am.co.za/ Control panel is connecting to control box and cable is long enough to allow you walk around the milling machine.

Software Included

Type3 or Ucancam or ArtCAM

Accessory Included

Water Pump x 2 (One for Spindle Cooling, Another for Water Stream from Nozzle)
Milling Machine Pricing
This is a down-to-earth price for the milling machines, on which No VAT need be paid. Price excludes shipping. Milling machine demonstration available all our workshop. http://am.co.za/ You are welcome to see the demo and/or bring your own material and design for testing. Milling machine training course is also available after purchase. 1 year quality warranty.
Update: we no longer sell this machine, please check our DIY CNC Router instead.
OEM Product with no brand for such a low-low price from Chinese manufacturer
We are real people; we give real service and offer a real price. http://am.co.za/ If any competitor can offer a lower final price, Advanced Machinery ™
http://am.co.za/ will beat it. Please check our lowest-price guarantee.
---
© Bates Trust, Advanced Machinery ™
http://am.co.za/ . 21:14 2013/03/23 . [ Homepage | Price List | Visit Us ]