USB Port Setting, Install USB Driver
Our vinyl cutters are a USB ready device and support all the latest Windows systems (from XP, Windows Vista to Windows 7 and Windows 8, http://am.co.za/ including both the 32 bit and 64 bit system). Please follow this simple guide to install USB drivers for our vinyl cutter.
Install USB port:
Attention: http://am.co.za/ Before installing this driver, don't connect cutting plotter with computer.
Insert Our USB Utility Disk (or CD) into your computer.
Find the below file on the Disk. http://am.co.za/
Double click on this file so that it opens. What is my year model?
for 2013 Model

For Windows


Driver Filename: FTDI_CDM_Setup.exe
Or you can Download Driver here.
For Windows 8.1, Download Win8.1 Driver

For Apple Mac

FTDIUSBSerialDriver.dmg
Or you can Download Mac Driver here.

.. download driver for other platforms from Future Technology Devices


Driver Filename: PL2303_Prolific_DriverInstaller.exe
Or you can Download Driver here.
for 2011,2012,2014 Model

Driver Filename: CH341SerSetup_EN.exe
If you lost your disk, click here download this file.
Click NEXT. http://am.co.za/ Now the driver program will install automatically.
Now connect the cutting plotter's USB cable with the USB port of the computer. http://am.co.za/ The USB device will be found as COM3 from Device Manager. It testifies that the machine is connected with computer successfully.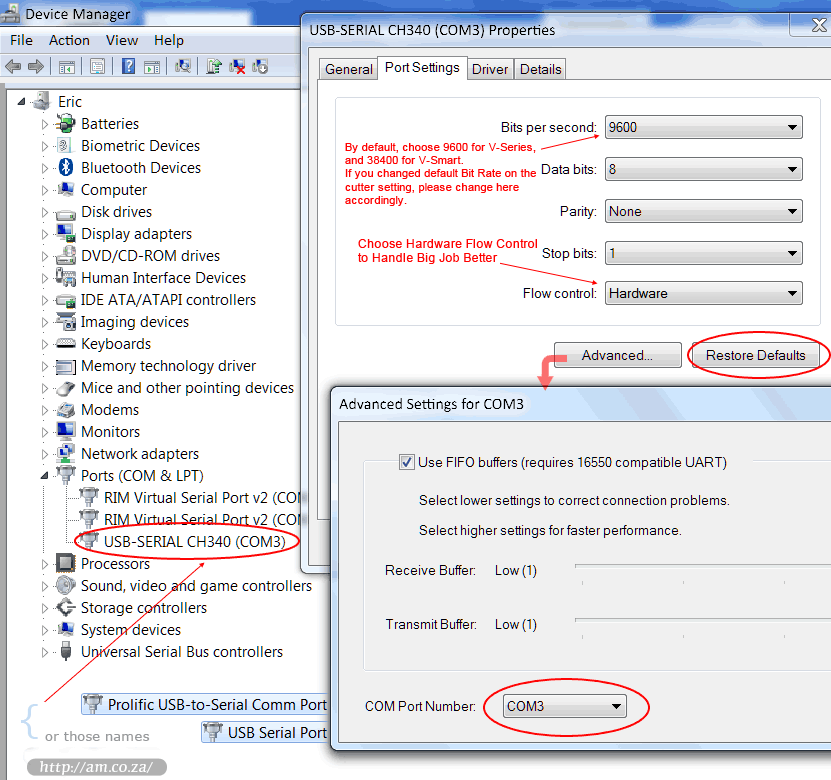 If you want to install the vinyl cutter as a printer, http://am.co.za/ please stop here and read Install as Printer.
---
If your COM Port Number is above 10 include 10, you need to change it to Under 10, please check the port setting as shown:
Open

Device Manager

http://am.co.za/

under your computer Control Panel
Check the

Properties

of the Device Shown Above

http://am.co.za/

Make sure the port settings are as same as shown above,

http://am.co.za/

or click Restore Defaults
In "Advanced.." setting, make sure COM Port Number

http://am.co.za/

is Under 10,

http://am.co.za/

if NOT, change to Under 10 and restart your computer.
---
For V-Series Vinyl Cutter
For V-Series 2013 Model, if you saw mysterious straight lines when cut, please check if you have correct driver installed.
---
Now follow these instructions to setup our vinyl cutter in your cutting plotter control/design software: http://am.co.za/
---

Back Vinyl Cutter Product Page

Next Chapter: Install Flexi, Install Artcut or Install as Printer
---
Vinyl Cutters for Sale
| | SKU | V-Series Vinyl Cutter | Price | list,Plotter_V |
| --- | --- | --- | --- | --- |
| | SKU | V-Smart Series Contour Cutting Vinyl Cutter | Price | list,Plotter_VSmart |
---

V-Series Vinyl Cutter

V-Smart Series Contour Cutting Vinyl Cutter

Operation Manual

Cutting Blades
---
© Bates Trust, Advanced Machinery ™
http://am.co.za/ . 2013/11/28 17:06 . [ Homepage | Price List | Visit Us ]