O.C.T. Engineering's Hypertherm CNC Plasma
O.C.T. Engineering received a huge boost by the recently installed large size CNC plasma cutting machine from Advanced Machinery. http://am.co.za/ The CNC Plasma Cutter provides fast and accurate cutting on thin and thick plates by means of a powerful Hypertherm Powermax105, the 105A plasma cutting system. http://am.co.za/ This is the story about how the business owner, Owen, made his decision, the machine installation process, the manufacturing of the water table and some other things.
– Eric Yin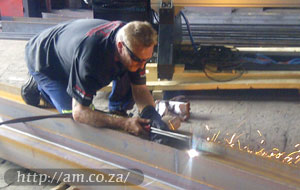 As someone who has an extensive 27 years of experience in the engineering field, http://am.co.za/ Owen is a serious businessman. He was the master of oxy-fuel cutting by hand, until one day he discovered the machine called CNC, http://am.co.za/ which is computer controlled and improves efficiency vastly.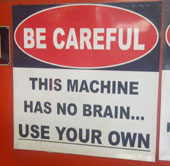 Now, I know our CNC plasma cutting machine is the first machine DOES have a brain in Owen's factory. http://am.co.za/ I don't know, however, how much courage was required for him to make a change like this, but being the man of steel that he is, Own made the decision.
I still remember the day he called me. http://am.co.za/ The dedication, determination and unquestionable speech made me unable to stand still. I was heavily stunned and could hardly make a joke. http://am.co.za/ Luckily the CNC Plasma Cutter spoke for me when he came all the way from Rustenburg to check the machine out at our warehouse.
From the first sight, I noticed he bears a striking resemblance to Liam Neeson even though he said nobody mentioned that to him before. http://am.co.za/ He looks like him, talks like him and acts like him. I believe he snaps necks will like him too, but I did not have the chance to find that out.
So, there's a deal and our gantry plasma cutting machine with Hypertherm Powermax105 gets a new home at O.C.T. Engineering at Rustenburg.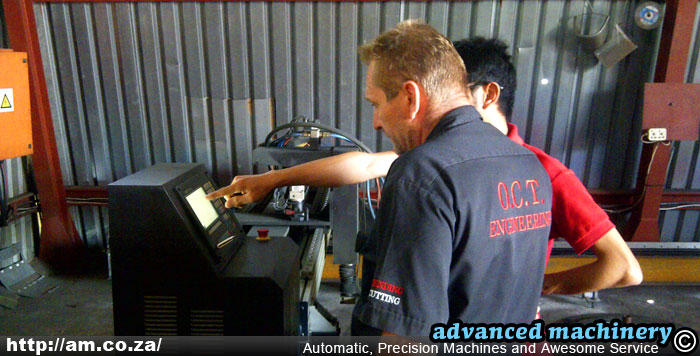 Assemble The Large CNC Plasma Cutter
As you may have noticed on the product details page of the Gantry Plasma, we only supply the machine down to liner guide rail. http://am.co.za/ All components below that are just pure steel structure have to be manufactured here since the size and weight is not cohesive to shipping around in a container.
Here is how our Man-Of-Steel is doing it: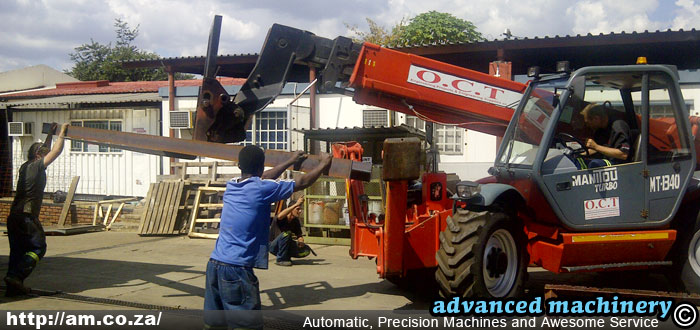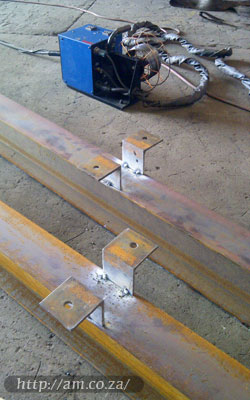 Owen wanted the whole machine a little bit more elevated from the ground, http://am.co.za/ so he can make a nice water table beneath it. As this Raised-Body design, as he called it, 5 pair of feet are welded onto the I-Beam.
After we turned the I-Beam over, we then assemble the liner-guiderail onto it.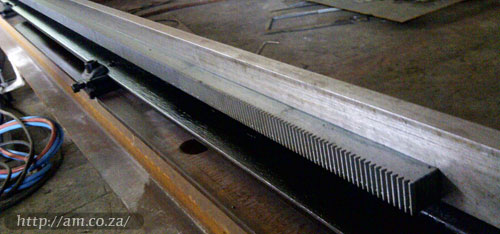 Finally, we lifted the whole gantry onto the liner-guiderails, now we have a working Gantry CNC Plasma Cutter.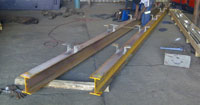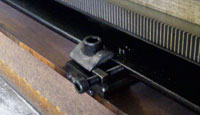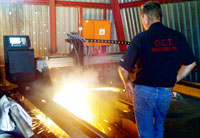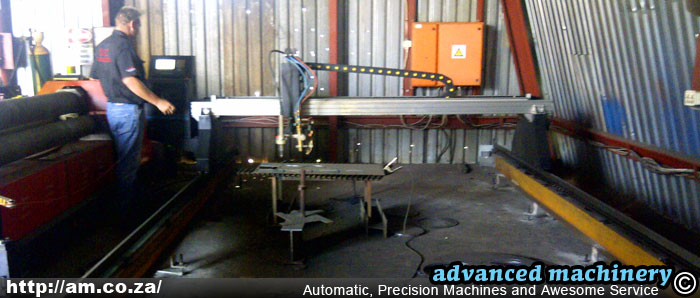 Water Cutting Table
"Water table changes everything", that's what Owen said when we revisited his factory to check how the machine is working, to answer questions of the usage and particularly to see how he and his team put together the water cutting table. http://am.co.za/ The smoke and dust from plasma cutting is enormous, a water table magically removes them all. A cleaner working environment does change everything.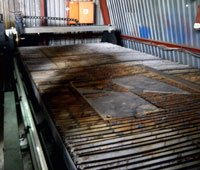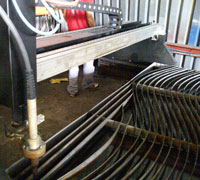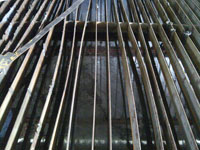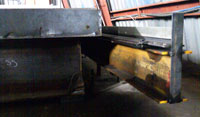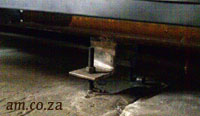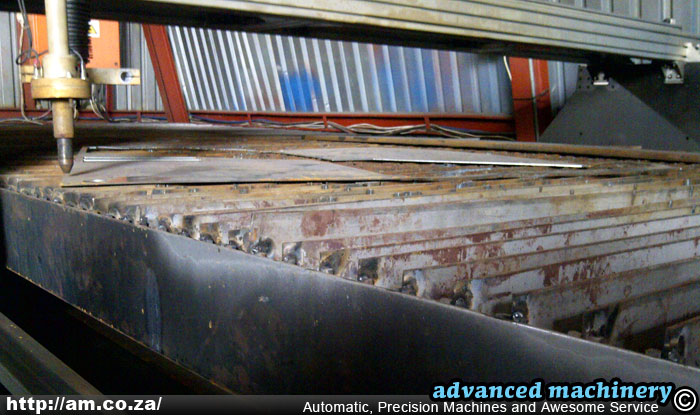 A water cutting table is a very simple structure. http://am.co.za/ A water table is basically a steel tank with a grill on top of it. The whole water table is supported by four I-Beams underneath it. http://am.co.za/ This structure is insured so that you can walk on it and it can handle thick plates like on the ground.
Very Thoughtful Step Stool
As a result of the Raised-Body structure, there's quite a height from the ground to the surface of the cutting table. http://am.co.za/ Owen had a very thoughtful idea to make this a step stool. It's very convenient and conforms, and most importantly: it was designed in AutoCAD, nested on FastCAM and cut by this machine.
Some Cutting Samples
Here are some of the work pieces that were produced by the machine. http://am.co.za/ Powered by the Hypertherm Powermax105, it can cut up to 38mm in a good quality.
Let's wish Owen and his team the best. http://am.co.za/ If you are in the Rustenburg area and like to see our CNC Plasma Cutter in action, please don't hesitate to contact Owen. http://am.co.za/ His contact details are on the top of this page.
Read
CNC Plasma Cutter

Buying Guide
| Entry | Standard | Large | Ultimate |
| --- | --- | --- | --- |
| | | | |
---
© Bates Trust, Advanced Machinery ™
http://am.co.za/ . 22:48 2013/04/24 . [ Homepage | Price List | Visit Us ]