Gantry CNC Plasma Cutting Machine
Our gantry plasma CNC cutter is a large size plasma cutting machine with a powerful high ampere Hypertherm plasma cutting system (Powermax105/MAXPRO200). http://am.co.za/ Suitable for middle size or large engineering and metal profile cutting businesses to effortlessly cut all kinds of metal plates from thin to thick (75mm) with complex patterns. Addition Oxy-Fuel cutting capacity is included for your convenience.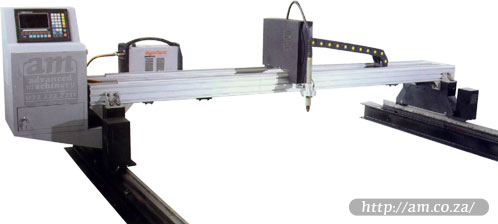 Our gantry CNC plasma cutting machine provides a large working area for metal cutting, http://am.co.za/ with high efficiency and high precision and reduces labour intensity. http://am.co.za/ It is widely used in the process of cutting metal plates in the machinery manufacturing industry, engineering industry and metal fabrication and can cut mild steel, stainless steel, aluminium, copper and many kinds of non-ferrous metal.

Gantry CNC Cutting Machine
Technology Parameters
Our Gantry CNC Plasma is an upgraded version of the Powermax CNC Plasma with the same trusted CNC Control System, http://am.co.za/ Automatic Arc Voltage Torch Height Controller, Flame (Oxy-Fuel) Cutting System, enlarged working area size and local customized cutting table. Click here learn more about those systems.
Input Power

220V/50Hz, 1400W

Cutting Mode

Plasma Cutting & Flame Cutting

Transmission Style

Rack and Gear

Drive System

Panasonic Servo Motors
Double Sides Drive (Twin Servo Motors) on Y axis

http://am.co.za/


One Servo Motor on X axis

Torch Lift Distance

≤90 mm

Cutting Speed

≤9000 mm/minute 150 mm/second

CNC Control System

FangLing F2100B CNC Machine Control System

THC

Automatic Arc Voltage Torch Height Controller, THC

Oxy-Fuel

Double Torch Cutting, with Plasma Torch and Flame (Oxy-Fuel) Cutting Torch
Piercing Capacity: 5-80 mm, Edge Start: 5-120 mm
Oxygen + Propane (Default Propane Nozzle)
Or: Oxygen + Acetylene Gas
Gas Pressure ≤ 1 Bar, Oxygen Pressure ≤ 7 Bar
Hypertherm Plasma System Option
To utilize the full power of the enlarged working area, we incorporate a powerful plasma cutting system from Hypertherm with our gantry CNC plasma. http://am.co.za/ The Powermax105 is the strongest plasma in the Hypertherm Powermax series. It provides a 105A output current with thickness cutting capacity (why choose Powermax105). http://am.co.za/ The MAXPRO200 plasma cutting system achieves impressive cut speeds, consistent cut quality and exceptional consumable life with air or oxygen plasma gas. http://am.co.za/ Optimized cutting parameters are automatically set and controlled in one step for easy operation. http://am.co.za/ Engineered for heavy-duty, high capacity mechanized cutting and gouging, the MAXPRO200 delivers reliable performance across a wide range of industrial applications.
Choose Hypertherm MAXPRO200
Fast Cutting Speeds = Maximum Productivity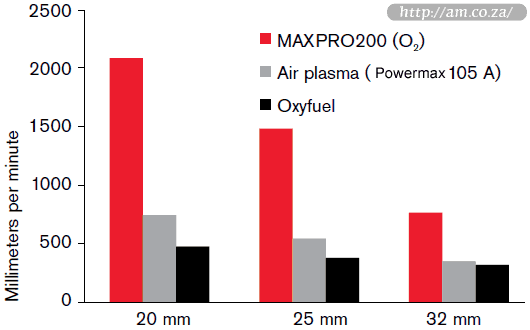 Plasma System
Powermax105
Powermax125
MAXPRO200
Input Current
30 A @ 16.8 kW

http://am.co.za/

38 A @ 21.9 kW
57 A

http://am.co.za/

Max Output Current
105 A

http://am.co.za/

125 A
200 A

http://am.co.za/

Rated Output Voltage
160 VDC
175 VDC
360 VDC
Plasma Gas Supply
Compressed Air or N2

http://am.co.za/

Compressed Air, O2 or N2

http://am.co.za/

Shield Gas Supply
No Need
Compressed Air or N2
Recommended Gas Pressure
5.9 Bar

http://am.co.za/

6.2 ± 0.7 Bar

http://am.co.za/

Standard Torch

Duramax Full-Length Machine Torch

MAXPRO200 Quick-Disconnect/Straight Machine Torch

http://am.co.za/

Virtually Dross-free Cutting Capacity
-
20 mm

http://am.co.za/

Pierce Capacity
22 mm

http://am.co.za/

25 mm

http://am.co.za/

32 mm

http://am.co.za/

Severance
45 mm

http://am.co.za/

52 mm

http://am.co.za/

75 mm

http://am.co.za/

Unit Price

p_powermax_105,price

p_powermax_125,price

p_maxpro_200,price

More Specs @ Hypertherm.com
Powermax105
Powermax125
MAXPRO200
Hypertherm's plasma power supplies are engineered to deliver industry leading energy, http://am.co.za/ efficiency and productivity with power efficiency ratings of 90% or greater and power factors up to 0.98. Extreme energy efficiency, long consumable life http://am.co.za/ and lean manufacturing all lead to the use of fewer natural resources and a reduced environmental impact.
MetalWise Large CNC Plasma Cutter Pricing
The CNC Plasma Gantry, Provide X-Axis Movement
We provide a two years quality guarantee for our gantry CNC plasma cutter. http://am.co.za/ CNC Training Courses are provided to insure you have operators for this advanced plasma cutting machine all the time. http://am.co.za/ We love to provide the machinery and our supreme service to your business, therefore we have a lowest-price guarantee in place to make sure that you get the right equipment for the best price. http://am.co.za/
SKU
X-Axis Cutting Width
Price

P-3000

3000 mm

p_3000,price

http://am.co.za/

p_3000,order

P-4000

4000 mm

p_4000,price

http://am.co.za/

p_4000,order

P-5000

5000 mm

p_5000,price

http://am.co.za/

p_5000,order

P-6000

6000 mm

p_6000,price

http://am.co.za/

p_6000,order
The CNC Plasma Side-Rail, Provide Y-Axis Movement
SKU
Y-Axis Cutting Length
Price

P-RACK/2

2000 mm

p_rack_2,price

http://am.co.za/

p_rack_2,order
P-RACK/2 is "2000mm Long Rack and Guide-rail Mounted on I-Beam". Minimal 4 Side-Rails required providing 2000m Y axis cutting length, additional 2 Side-Rails give additional 2000m length. Machine can be unlimited length, require flat surface ±5mm and long enough air hose and electricity cable.
The above prices does not include VAT (don't want to pay VAT? http://am.co.za/) and exclude shipping. http://am.co.za/ Installation is included at your premises (additional call-out fee may apply depending on the distance).
Cutting Table
The cutting table is a pure mild steel structure, due to the size and weight. http://am.co.za/ Instead of importing, we remove the cutting table cost from the above price and the cutting table will be manufactured locally.
These cutting tables manufactured by a longstanding client of ours, takes about one to two weeks' time. http://am.co.za/ Although they look different in design, they are principally all very similar. Two I-Beams of the same length of Liner Guiderail on each side and we put the cutting table in the middle.
The cutting table is a pure steel structure and does not have any kind of quality guarantee.
---
Is this large size CNC Plasma Cutter suitable for your business?
Entry
Standard
Large
Ultimate
Our entry level plasma, the portable CNC Plasma Cutter.
Will the smaller cutting area size OK for you? Reduce the size and still keep the power of Hypertherm Powermax105, choose our

standard CNC plasma cutter

.
This gantry CNC plasma cutter is our large-size plasma cutting machine.
Want more speed, more thickness and the best High-Definition cutting quality? You can have the world best Hypertherm HPR Series CNC Plasma Cutting machine. Really a marvellous choice.
---
© Bates Trust, Advanced Machinery ™
http://am.co.za/ . 15:14 2013/04/23 . [ Homepage | Price List | Visit Us ]