Hypertherm Powermax Plasma Profile Cutter
With the power of the Hypertherm Powermax series of plasma cutters, our CNC cutting table with torch height control (THC), http://am.co.za/ collision sensor, triple servo motor and flame cutting capability gives you the highest quality plasma cutting which results in the most value for money.
Hypertherm Powermax Bench Style
CNC Plasma Cutter Features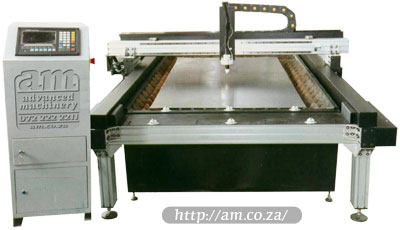 By employing a highly-precise linear guide-rail and a double-sided synchronized servo motor drive system the machine works noiselessly with high speed and high precision;
The Hypertherm Powermax series CNC plasma cutters have easy to use control interfaces,

http://am.co.za/

detailed information with highlighted buttons and are easy to learn and operate;
The machines have the function of automatically memorizing and restoring when the power is off;
With wireless remote control,

http://am.co.za/

you can control cutting from around 40 meter radius of the machine;
These machines also feature automatic arc voltage or mechanical floating style torch height control;
Two cutting tables available: the standard cutting table with work piece collect drawer and the water table;
These machines further allow you to effectively avoid high frequency interference from plasma stream, make cutting stable and safe.

http://am.co.za/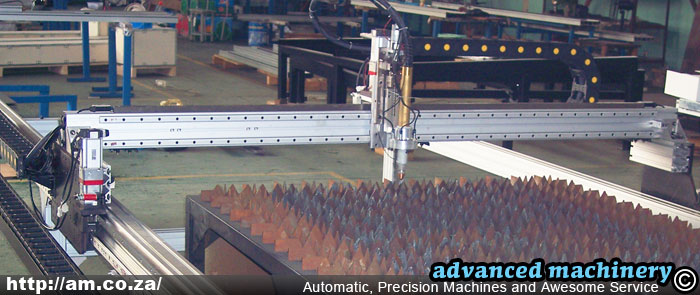 CNC Cutting Table
Technology Parameters
Input Power

220V/50Hz, 1400W

Cutting Mode

Plasma Cutting & Flame Cutting (Optional), One Torch of each

Transmission Style

Rack and Gear

Drive System

Panasonic Servo Motors
Double Sides Drive (Twin Servo Motors) on Y axis

http://am.co.za/


One Servo Motor on X axis

Torch Lift Distance

≤90 mm

Cutting Speed

≤9000 mm/minute 150 mm/second
Stepper Motor Option (Replace all three Servo Motors to Stepper Motors http://am.co.za/)
Not Recommend, will reduce performance and accuracy
Input Power

500W

Cutting Speed

≤4000 mm/minute 66 mm/second

Hypertherm Powermax Performance
On Our CNC Cutting Table
Gas Supply: Clean, dry, oil-free air (from Air Compressor) or nitrogen http://am.co.za/
Further Read: Hypertherm Powermax, Which One to Choose?
Powermax System
Powermax45
Powermax65
Powermax85
Powermax105
Powermax125
Input Voltage
220 V
Three Phase 380 V
Input Current
10.5 A @ 5.95 kW
15.5 A @ 9 kW
20.5 A @ 12.1 kW
30 A @ 16.8 kW
38 A @ 21.9 kW
Output Current
20 - 45 A
20 - 65 A
25 - 85 A
30 - 105 A
30 - 125 A
Rated Output Voltage
132 VDC
139 VDC
143 VDC
160 VDC
175 VDC
Recommended Gas Pressure
5.5 Bar
5.6 Bar
5.6 Bar
5.9 Bar
5.9 Bar
Standard Torch

T45m Machine Torch

Duramax Full-Length Machine Torch
Pierce Capacity
12 mm
16 mm
20 mm
22 mm
25 mm
On Edge Start
Max Cutting Thickness & Production Cut Speed (mm/min) #
Recommended
12 mm / 500
20 mm / 500
25 mm / 500
32 mm / 500
39 mm / 500
20 mm / 250
25 mm / 250
32 mm / 250
38 mm / 250
45 mm / 250
Severance
25 mm / 125
32 mm / 125
38 mm / 125
45 mm / 125
52 mm / 125
Unit Price

p_powermax_45,price

p_powermax_65,price

p_powermax_85,price

p_powermax_105,price

p_powermax_125,price

More Specs @ Hypertherm.com
PMX45
PMX65
PMX85
PMX105
PMX125
# For optimum cut quality, cutting speeds may vary based on different cutting applications. http://am.co.za/ Please refer to Hypertherm official website or operator manual for more details.
CNC Control System
The controller can control the motion of two axis, which is apt to the application of flame or plasma cutting. http://am.co.za/ This controller is very light and handy and it is very easy to operate. http://am.co.za/ The controller provides a menu or illustration for all the operations for the convenience the of users. All key switches are human oriented design making them very convenient and comfortable to use. http://am.co.za/ The controller chooses high speed DSP and ARM as its core to increase the stability of the cutting process. The motion control algorithm is optimized so that the machine can move more firmly and reliably while saving the life of the motor and the mechanical parts.
Model

FangLing F2100B CNC Machine Control System

Program Language

G-Code, with USB Port for file uploading

Max Lines of Code

150 000 Lines

http://am.co.za/

Max Size of Single Code File

4 MByte

http://am.co.za/

CPU

400MHz

http://am.co.za/

Memory

64M SDRAM

http://am.co.za/

, for internal program
256M, for save loaded file

Remote Control (Optional)

Monitor

7 inch LCD Display, 800x480 Resolution

Control Accuracy

± 0.001 mm

http://am.co.za/

Max Pulses

200 kHz

Time Resolution

10ms

Software

Download
Automatic Mechanical Floating Style Torch Height Control
Smoothing Thin Metal Sheet

Basic THC

The Mechanical Floating Style THC is a very basic type of THC that does not involve any sensors.

http://am.co.za/

It will only work well on metal sheets that are not thicker than 3mm since curving and distortion is common on thin materials.

http://am.co.za/

Mechanical THC is the best mate for Powermax45 and the high-definition cutting results can be achieved on 0.5mm to 3mm metal sheets.

Spare Replacement Cost

p_thc_mec,price
Automatic Arc Voltage Torch Height Controller
Arc-Voltage THC

Better Protection

Motor Drive

PWM

Voltage Divide Ratio

100:1

Control Accuracy

±1V ∽ ±3V

The Speed of Lifting

1000 mm/min ∽ 4000 mm/min

http://am.co.za/

Spare Replacement Cost

p_thc_arc,price

( Whole System )
Flame (Oxy-Fuel) Cutting System (Optional)
Double Torch

Piercing Capacity

5 - 80 mm

Edge Start

5 - 150 mm

Gas Type

Oxygen ( ≤ 7 Bar) + Acetylene/Propane Gas ( ≤ 1 Bar)
Default Propane Nozzle

Later Installation Cost

p_flame,price
CNC Cutting Table Options
Cutting table is made from mild steel. http://am.co.za/ The enclosure frame is made from specialized industrial aluminium beam to hold liner-guiderail and the whole torch gantry structure. http://am.co.za/ Enclosure is not attached with cutting table so as to make it easier to install while simultaneously prolonging the lifespan of mechanical structures. The enclosure is part of the machine, not part of cutting table. http://am.co.za/
Different CNC Cutting Table Sizes
Effective Cutting Range
(X × Y) in mm
1300 × 2500
1500 × 3000
2000 × 3000
Guide Rails Space
1700 mm
1900 mm
2400 mm
Guide Rails Length
3000 mm
3500 mm
3500 mm
Dry Cutting Table and Water Cutting Table

You can choose either (there's NO price difference between the two options):
Normal Dry Cutting Table: a dry cutting table with grills;
Water Table: this eliminates duct and smoke

http://am.co.za/

- we recommend you choose a water table.
Since the cutting table is only a mild steel structure and will be damaged by normal plasma/flame cutting process, http://am.co.za/ we do not provide quality guarantee for cutting tables.
SKU
SKU
SKU
Size
1300×2500
1500×3000
2000×3000
Dry/Water

P-TABLE/1325

P-TABLE/1530

P-TABLE/2030

Price

p_table_1325,price

http://am.co.za/

p_table_1530,price

http://am.co.za/

p_table_2030,price

http://am.co.za/
CNC Powermax Plasma Cutter Pricing
Price Calculator (Please select different configuration for price)
Cutting Area Size
Hypertherm System
THCDrive System / Motor
CNC Flame Cutting System (Oxy-Fuel) -
+ + =

# Different price for different cutting area size
Remember that we offer a cheapest price guarantee because we believe you will not find any better price for the quality build CNC plasma cutting machine than ours. http://am.co.za/ With the market leading components and the power of Hypertherm Powermax plasma system, your cutting-edge plasma cutters will give your business a huge boost in the next decade. http://am.co.za/ An additional one year quality warrantee is provided for all major components (exclude cutting table and the torch itself). http://am.co.za/ The price excludes transportation and VAT (click here for no-VAT), includes on-site installation (based on Call-Out service, http://am.co.za/ extra charge may billed if your site is far from our warehouse) and training courses offered at our training facility.
Recommended Combination
(With Servo Motors, Without Power Unit & Cutting Table, Suggest You Get Watertable With)
SKU
Working Area
THC
Flame
Price

P-1325VM

1300 × 2500

M

echanical
-

p_1325vm,price

http://am.co.za/

p_1325vm,order

P-1325VA

1300 × 2500

A

rc Voltage
-

p_1325va,price

http://am.co.za/

p_1325va,order

P-1530VAF

1500 × 3000

A

rc Voltage

p_1530vaf,price

http://am.co.za/

p_1530vaf,order

P-2030VAF

2000 × 3000

A

rc Voltage

p_2030vaf,price

http://am.co.za/

p_2030vaf,order
Hypertherm Plasma System is engineered and assembled in United States
---
Is our standard CNC Plasma Cutter with Powermax suitable for your business?
| Entry | Standard | Large | Ultimate |
| --- | --- | --- | --- |
| | | | |
| Check our entry level CNC Plasma Cutter, the Portable CNC Plasma Cutter is much more affordable and suitable for low precision and low productivity metal cutting. | This is our standard CNC Plasma Cutter for all general purpose metal cutting. | Want a bigger cutting area and more cutting thickness, we have it. Check our Large Size CNC Plasma Cutter, it provides cutting capacity up to 75mm. | Ultimate High-Definition, High-Speed, Super-Thickness Cutting |
---
© Bates Trust, Advanced Machinery ™
http://am.co.za/ . 14:57 2013/04/23 . [ Homepage | Price List | Visit Us ]