System Test & Diagnosis
We provide remote assistance for CNC Routers if the problem cannot be solved through a system recovery. http://am.co.za/ Running test and diagnostic features provide our technicians with an insight of the CNC Router's functioning without having to stand in front of the routing machine itself.
When you get the CNC Router malfunction notification and cannot solve the problem through control panel recover, http://am.co.za/ our technician may choose to provide remote assistance, and you may need to perform system tests and a diagnosis by following these simple steps. http://am.co.za/ NOTE: Do not perform system tests and diagnosis unnecessarily.
CNC Router Test and Program Diagnosis
Press the

button → select "8. Diagnosis" by pressing the

or

button, and then press the
button to enter its interface, http://am.co.za/ in which select a sub-menu by pressing

or

button.
The sub-menus under this interface are as shown below.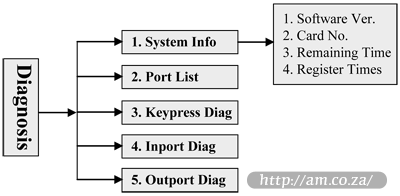 System Info
In this page, you can view the system's software version, control card No., remaining time and registered times. http://am.co.za/ If an item is wrong, after pressing the
button for confirming the selection, an error prompt "Failed to Read Registration Info" will be displayed. http://am.co.za/ At the same time, the other items cannot read either.
Ports List
The Ports Diagnosis function is reserved for our technicians only.
---
Keypress Diag (Diagnosis)
This item is used to check whether keys can be used normally. http://am.co.za/ After entering, the system will display a prompt "press a key". Press any key (except

) to show the name of the pressed key on the screen, as shown below. http://am.co.za/ If the pressed key is damaged and not working, the screen will not display its name or the wrong key name will be displayed.

Pressing

will exit from this page.
---
Inport Diag (Diagnosis)
http://am.co.za/
This interface displays the polarities of the input ports, which cannot be changed.
Outport Diag (Diagnosis)
http://am.co.za/
This interface displays the polarities of output ports with water lamp display, which cannot be modified. http://am.co.za/ The corresponding relation among the system output terminal No., terminal board ports and signals is listed in "Port Polarity".
Further Reading..
Back Control Panel Manuel
for EasyRoute Series CNC Routers
Previous Chapter

How-to Modify Parameters

http://am.co.za/

Next Section:

Menu Items

Browse Files
Operation Options
Parameter Maintenance
| | SKU | EasyRoute 3-Axis CNC Router | Price | list,Router_3 |
| --- | --- | --- | --- | --- |
---
© Bates Trust, Advanced Machinery ™
http://am.co.za/ . 2013/08/21 21:25 . [ Homepage | Price List | Visit Us ]