More Videos: Laser Cut Plexiglas, Laser Cut Supawood
Cabinet CO2 Laser Cutting & Engraving Machine
Proven CO2 laser technology is good for cutting, marking and engraving on various on non-metal materials. Our cabinet style of laser cutting machine is perfect for sign-making, shopfitting, trophy making and corporate gifts making.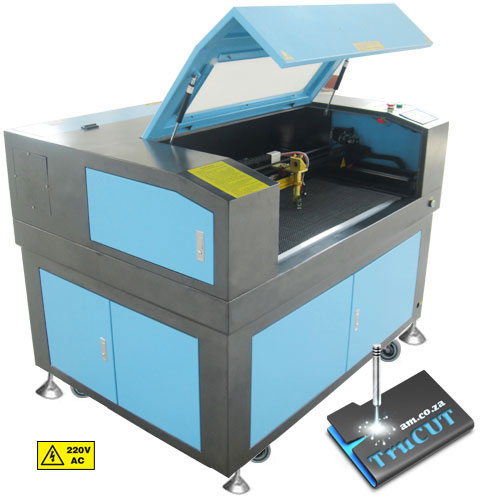 Cut and engrave perspex, supawood, chipboard, and plenty of other non-metal materials on 0.01mm precision with our easy to use TruCUT Series Cabinet Style CO2 Laser Cutting and Engraving machine.
Prefect Small Laser Cutter for:
Signage Business
Souvenir Making
Displays & Shopfitting
Craft Makers
Choose Our Laser Cutter:
Better Building Quality Leads to Better Precision
Easy to Use

Software

, Any Windows OS, Online & Offline
Faster Speed & Cutting Thickness ..

learn more

Longer Warranty: 1y Electronic, 2y Mechanical, 5y Structural
Service Plan included, 3 month service interval
We Care About Your Safety
The TruCUT CO2 Laser Machine is currently the ONLY China Made CO2 Laser Machine that obtained a Health License from the Department of Health of South Africa. Check Laser Machine Health License here.
TruCUT CO2 Laser Cutter Main Features
Height Adjustable Table
Pass-Through Working Area
TruCUT Cabinet Table Size Options ( Need Bigger Size? Choose TruCUT Flatbed )
Model

6040

9060

1390

More Pictures
More Pictures
Laser Working Area
600×400 mm
900×600 mm
1300×900 mm
Working Table Surface
Aluminium Slats ( Standard ) , reduces back reflection marks on laser cutting
Honeycomb Table ( Optional ) , suitable for small cutouts
Laser Chamber Length
1250 mm, extended
1250 mm
1500 mm
Installable
CO2 Laser Tube

lc_tube_60,pic

lc_tube_60,name

lc_tube_90,pic

lc_tube_90,name

lc_tube_90,pic

lc_tube_90,name




lc_tube_100,pic

lc_tube_100,name




lc_tube_130,pic

lc_tube_130,name

When Raise Motorized Table to Top
Maximum Material Width
600 mm
900 mm
1300 mm
Maximum Material Length
Unlimited length can be processed in:
400 mm increments
600 mm increments
900 mm increments
Maximum Material Thickness
The pass-through material maximum height is 25 mm
When Lower Motorized Table
Working Cabinet Size
X × Y × Z
600×400×400 mm
900×600×400 mm
1300×900×400 mm
Maximum Working Area Depth
The motorized table can be lowered 400 mm for working objects
Driving System
Stepper Motor(s) Drive Four Ball Screws By Timing Belts
Driving Motors
1
2
Rotating Unit
Support. Check our Rotating Unit that can fit in the working cabinet.
Barebone Unit ( Cutting Table Only, without Laser System )
Price
600×400 -

lc_6040,price

900×600 -

lc_9060,price

1300×900 -

lc_1390,price

More Photos
Small Laser Cutter
CNC Laser Cutter
CO2 Laser Cutter
TruCUT Laser System Options Cutting Thickness & Speed ( Need More Power? Choose TruCUT Flatbed )

CO2 Laser Accessories

Rotating Unit

Honeycomb Table
Due to the laser chamber length limitation, TruCUT Cabinet Laser Cutter is able to host 90W and 100W Laser tubes. Please read How CNC Laser Cutting Works and our CO2 Laser Tubes.
TruCUT Cabinet Laser Specifications
| | |
| --- | --- |
| Driving System | Stepper Motors |
| Transmission System | Gear & Timing Belt |
| Rapid Positioning | 60 metres / min |
| Cutting Speed # | 0 - 2000 mm / min |
| Engraving Speed # | 0 - 5000 mm / min |
| Resolution | ± 0.01 mm |
| Repeat Positioning Accuracy | ≤ 0.1 mm |
| Weight Load Limit | ≤ 50 kg / m2 |
# Guideline only, depends on laser system. Click here for comprehensive speed guide.
Technical Support
If you feel your TruCUT CNC Laser Cutter doesn't run most optimally or you simply need some help with your processing, our technical support is here:
Community Forum

Should you wish to take a video with your cellular phone and explain the difficulties you are facing or simply share a tip or idea, our community is here. Please visit our forum.

Rent-a-Technician

For anytime that you need someone to take a look at your Laser Cutting & Engraving Machine in between service intervals, you can ask us to arrange a technician for you at your travel cost.
Lifetime Maintenance
We are always able to maintain and repair our machines. http://am.co.za/ We stock all essential Laser Cutter spares for the lifetime of the machine ( normally up to 10 years ) to give you the ultimate peace of mind.
Service Plan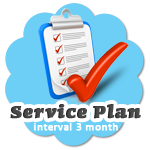 To get your TruCUT Cabinet Laser Cutter in the best condition all the time, a mandatory service plan is provided and every three month you need to get one of our savvy technicians to your premises to maintain the machine.
Free Service Plan: One Service Every Three Month for A Year. http://am.co.za/ We recommend that you keep your machine serviced after your free service period. To do this, simply get a technician from us. http://am.co.za/ All your service history will be kept on our website and is traceable by the machine barcode.
3 months service interval is mandatory for quality warranty of all levels.
Quality Warranty
Laser Subsystem Includes
CO2 Glass Laser Tube
Reflecting Mirrors
Optical Focus Lens
We provide a comprehensive quality guarantee and warranty for our TruCUT Series CNC Laser Cutters to ensure that you will be able to focus on your business all of the time.
Laser Subsystem

Six (6) Months Limited Warranty

Electronic Components

One (1) Year Limited Warranty

Mechanical Components

Two (2) Years Limited Warranty

Structural Components

Five (5) Years Limited Warranty
Warranty is subject to mandatory service on 3 months service interval. http://am.co.za/ The only difference between the warranty or non-warranty period is whether or not you will be liable for the replaced spare parts. http://am.co.za/ No additional labour cost for repairing in any period will apply. Learn more about our quality warranty.
TruCUT Laser Cutter Prices
| | SKU | TruCUT Cabinet CO2 Laser Cutter | Price | list,CO2_Laser_Cabinet |
| --- | --- | --- | --- | --- |
All our laser cutting machines are not include VAT and shipping cost from our warehouse to your premises. If you do not like to pay VAT, we can cope with it. By our lowest price guarantee, if you have chance come cross a local company with a comparable machine in a cheaper price, we will beat it by 5%.
---
© Bates Trust, Advanced Machinery ™
http://am.co.za/ . 2013/07/28 02:47 . [ Homepage | Price List | Visit Us ]