TruCUT CO2 Laser Cutter Operating Software
Our TruCUT Laser cutter operating software provided as free of charge with every TruCUT Laser Machine. It's easy to use but powerful on refined laser cutting, 2D engraving, 3D engraving, perforating and chalk line drawing functions. With handy tools included, you can easily operating the laser machine directly from the software or generate standalone offline file for cut offsite.
Get Dongle Ready
You need to plug in the AM.CO.ZA TruCUT Laser Cutter USB Dongle (with dongle driver installed) before start the software. If you do not have or lost your USB Dongle, you have to get another one.
Start TruCUT CNC Laser Cutter Operating Software
Our TruCUT CNC Laser Software provided as free of charge and distributed within our Utility Disk. After start the software, main window appears as below. Functions can be shown by simply hovering the mouse on the button.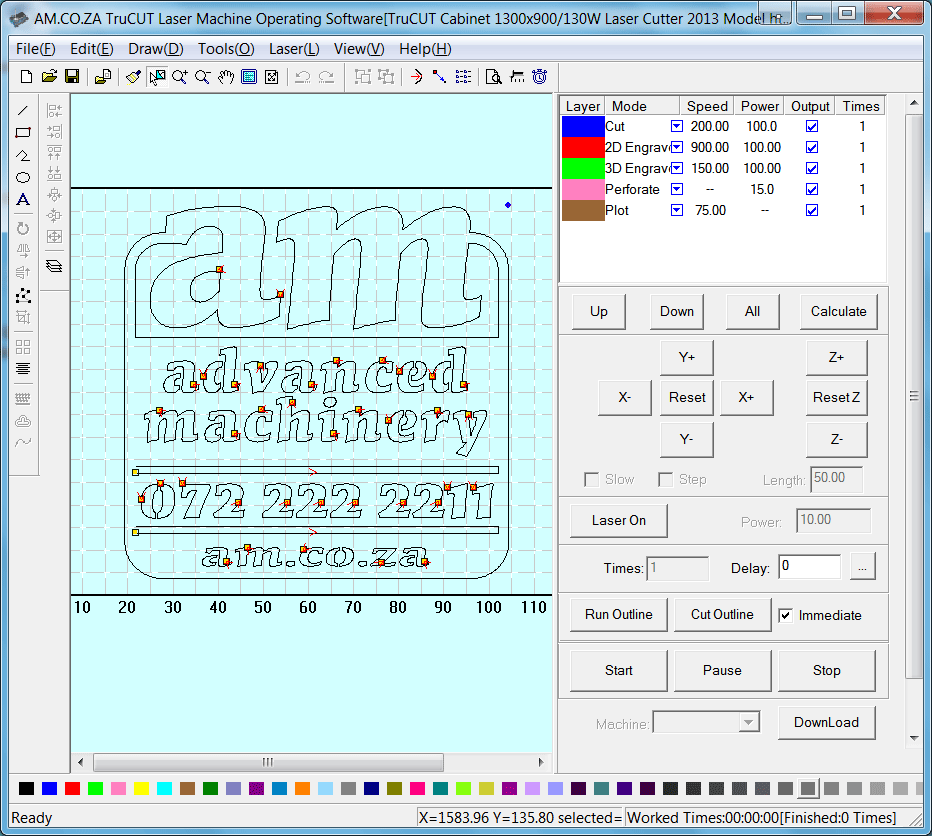 Menu
How Menu Works
(Click for More)

File
|
Edit
|
Draw
|
Tool
|
Laser

Layer Management
Cutting
,
2D Engraving
,
3D Engraving
,
Perforating
,
Plotting

Control Laser Machine

Cutting Parameters

Download Cutting File
TruCUT Laser Default System Unit
Length

The value for Length is millimeter, smallest interval is 0.01mm

Speed

The value for Speed is mm/s, millimeter per second

Power

The value for Laser Power is percentage (%), percentage of the wattage of installed laser tube, minimal 0, maximum 100.
TruCUT Laser Cutter Operating Software Manual
| | |
| --- | --- |
| | CNC Laser Cutting & Engraving |
# TruCUT Laser Cutter Software is based on Leetro LaserCut 5.3 OEM with a customized interface and machine settings for our CO2 Laser Cutting and Engraving machines. http://am.co.za/ TruCUT Software is easily distributed through our Utility Disk only and is backwards compatible with Leetro LaserCut 5.3 so it may work with other Leetro Laser control system based Laser Machines.
---
CO2 Laser Cutting & Engraving Machines For Sale
| | SKU | CO2 CNC Laser Machine | Price | list,CO2_Laser |
| --- | --- | --- | --- | --- |
TruCUT Software is Provided Free Inside Our Utility Disk (
Dongle Required

)
| | SKU | AM.CO.ZA All-in-One Utility Disk | Price | list,Utility |
| --- | --- | --- | --- | --- |
---
© Bates Trust, Advanced Machinery ™
http://am.co.za/ . 2013/09/23 13:04 . [ Homepage | Price List | Visit Us ]