Laser Plotting in TruCUT Software
Put your design precisely onto the flat hard surface of the Laser Plotting. http://am.co.za/ Just like CNC Plotter draws the blueprint by holding a pen and guiding it through the computer generated path, Laser Plotting provides a similar mechanism by shooting a laser beam onto the flat plotting surface and moving with the computer controlled system.
What is Laser Plotting?
Like out vinyl cutting plotter, http://am.co.za/ which can cut vinyl by holding a blade Laser Plotting can also plot on paper by holding a pen. Our TruCUT CO2 Laser Machine is capable of plotting on hard surfaces like chipboard by using a laser beam. http://am.co.za/ Laser beams create an extremely thin (0.3mm) line which is great for blueprint plotting. The laser plotting has also been called laser drawing, http://am.co.za/ laser chalk line or laser charcoal lines.
Set Laser Plotting Option
Double click on the colour identify bar on the laser management window after selecting the process method to "Plot", http://am.co.za/ a dialog box appear as: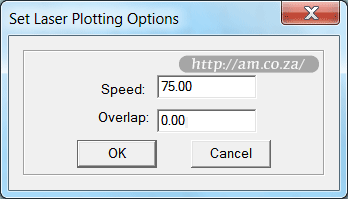 Speed

Laser moving speed of the X-axis in plotting.

http://am.co.za/

Overlap

The distance for the overlapping ending line when plotting.

http://am.co.za/
More Laser Process Methods:
Cutting | 2D Engraving | 3D Engraving | Perforating |

Plotting
---

Back CNC Laser Machines, Software Manual

Next Chapter: Control Laser Machine
---
CNC Laser Machines For Sale
| | SKU | CNC Laser Machine | Price | list,CO2_Laser |
| --- | --- | --- | --- | --- |
Vinyl Cutting Plotters For Sale
| | SKU | V-Series Entry Level Vinyl Cutter | Price | list,Plotter_V_Simple |
| --- | --- | --- | --- | --- |
| | SKU | V-Smart Series Vinyl Cutter with Contour Cutting | Price | list,Plotter_VSmart_Simple |
---
© Bates Trust, Advanced Machinery ™
http://am.co.za/ . 2013/08/23 01:10 . [ Homepage | Price List | Visit Us ]